Margot at the Wedding (Director: Noah Baumbach)
"Margot and her son Claude decide to visit Margot's sister, Pauline after she announces that she is getting married to less-than-impressive Malcolm (IMDB)."
Noah Baumbach's last effort brought us the family dramedy
The Squid and the Whale
, for which Baumbach received an Academy Award nomination for Best Original Screenplay. Based on the trailer it looks like
Margot at the Wedding
will be another dramedy, but instead of a family unit, Baumbach is looking at the relationship between two sisters, Margot (Nicole Kidman) and Pauline (Jennifer Jason Leigh).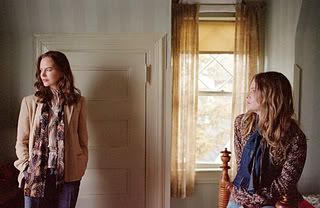 What's interesting is that it looks like it will be the kind of performance that Kidman will receive praise for downplaying her character. There appears to be no moments of "THIS IS MY OSCAR SCENE" in the trailer, but instead we are treated to a more realistic approach from the actors. The roles Kidman has done as of late, have not particularly stretched her as an actress (I mean,
Bewitched
anyone?) and she just looks uncomfortable in her scenes. Here, Kidman seems to be at her most comfortable. A return to form for an actress that hasn't done all that much to show off her Oscar winning skills (
Birth
excluded, a fine performance that grows with repeated viewings).
Leigh (who seems a perfect choice to play Kidman's younger sister), who in real-life is married to Baumbach, has delivered many great performances that have yet to nab her the elusive attention from the Academy. Fans will remember her work in the critically respected
Georgia, Mrs. Parker and the Vicious Circle
and
Last Exit to Brooklyn
. But for me, she will always be Stacy Hamilton from
Fast Times at Ridgemont High
. This looks to be a rewarding role for Leigh, one that will remind critics and audiences (and maybe the Academy) that she is an actress that deserves attention.
On the flip-side of these two actress, we have Jack Black. I have enjoyed some of Black's work, but I am very intrigued about how he is starting to show more of his acting abilites rather than just his comic sensibilities (his performance in last year's messy
The Holiday
proved to be a start of his maturity as an actor). Besides having a fun line in the trailer ("Lots of people. You don't know 'em, they're not around because I punched them"), Black looks to be motivated by his co-stars to bring his A-game to the forefront. Sharing scenes with both Kidman and Leigh will no doubt make him a better actor (one would hope).
Paramount is releasing
Margot at the Wedding
through their Paramount Vantage studio (the same one that released
Babel
) in a limited release come November, which to me says that they are expecting this to be one of their prime awards magnet. They are also releasing The Coen Brothers'
No Country for Old Men
, Martin Scorsese's Rolling Stones documentary
Shine a Light
, Sean Penn's
Into the Wild
and Paul Thomas Anderson's
There Will Be Blood
(all of which I am also anticipating) this fall, but
Margot at the Wedding
will no doubt be their go-to film to position for female acting and original screenplay attention.