Best Performance By an Actress in a Supporting Role
A look at the Oscar Race with TheBackstage's Above the Title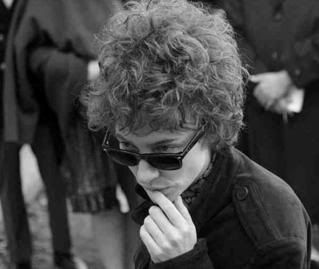 Above the Title:
Cate Blanchett
(for
I'm Not There
) is the lockiest lock that ever locked. She's the returning nominee from last year and will be one of the approximately 50% of the nominees who are returning veterans.
For Your Speculation: I agree and I think that she's doing what Oscar likes best. Playing someone famous. Even if it's not really Bob Dylan, we all
know
it's Bob Dylan.
AtT: She will look so cute at the Oscars pregnant!
FYS: The next sure bet is looking to be
Saoirse Ronan
aka "the little girl from
Atonement
whose name we can't pronounce" (phonetically pronounce "sir shuh").
AtT: Anyone who has read the book knows the gravity of the role. Since she got the lead in
The Lovely Bones
, she must be the second coming of Jodie Foster.
FYS: Thank god, you said Jodie Foster and not Dakota Fanning. Aside from these two ladies, it's anyone else's game. You have two former winners like
Marisa Tomei
(
Before the Devil Knows You're Dead
) and
Vanessa Redgrave
(
Atonement
), a few past nominees such as
Catherine Keener
(
Into the Wild
) and a bevy of newbies and veterans looking for their first nod.
AtT: You have the two other ladies from
Atonement
(Redgrave and
Romola Garai
), but it is very rare for three people to get in from the same film, even if it looks to be beloved by the Oscars. You have people like
Amy Ryan
(
Gone Baby Gone
), who got the reviews that are good enough to warrant a nomination, but will need support from a critic's group to get the traction that she needs. And then you have a previous winner like
Olympia Dukakis
(
Away From Her
) who could bandwagon Julie Christie.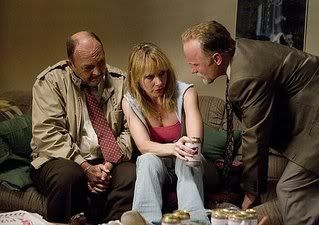 FYS: Then you have poor
Jennifer Jason Leigh
(
Margot at the Wedding
), who at the beginning of the season, looked like she was finally going to get recognized, but now is struggling to get noticed once again. On top of that, we also have women from potential Best Picture contenders, like
Kelly Macdonald
as the sole female protagonist in
No Country for Old Men
,
Jennifer Garner
if
Juno
becomes a
Little Miss Sunshine
-type Best Picture and
Ruby Dee
, if
American Gangster
can become more than just a moneymaker that will no doubt get Denzel and Russell some Globe nods.
AtT: I feel like Ruby Dee is someone who they might finally want to bestow a nomination. She's been around a lot and is very respected.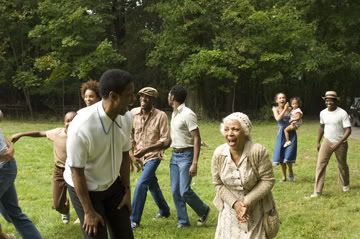 FYS: Plus, it's been I believe two years since her husband, Ossie Davis passed away and he also was Oscarless in his career. By honoring Ruby Dee, they could in essence be honoring both of their careers. Let's not forget that they both won the SAG Lifetime Achievement Award as a couple. That tells us that the industry saw them as a talented working married couple that proved the test of time. I cannot imagine Tom and Katie doing that.
AtT:
Julia Roberts
(
Charlie Wilson's War
), I think, she will get a Globe nomination, but probably nothing else beyond that. Unless her wig is nominated for a Razzie. Yikes.
FYS: Agreed. It seems that after her coronation for Best Actress, the Academy is over her and won't go near her until she starts playing the, sigh, mother of the lead actor in some Best Picture contender.
AtT: The only elephant in the room is
Helena Bonham-Carter
(
Sweeney Todd
), if she switches her campaign from lead to support.
FYS: The other wildcard in this race is
Leslie Mann
. Critics loved her performance in
Knocked Up
and if anything besides the script survives the onslaught of prestige pictures, it could be her.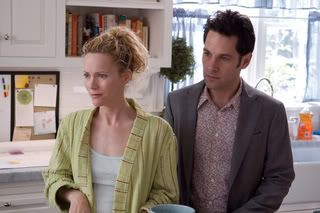 AtT: It could end up being a Joan Cusack type of nomination. It's not the type of performance that Oscar recognizes. They don't go for comedy, but this was an exceptionally well-reviewed summer film. Her role had a lot of heart and her reputation makes it easier to nominate her over a Katherine Heigl or a Seth Rogen.
FYS: I agree, and I think that she needs at least one critic award and a Globe nod for it to happen. Plus, it doesn't hurt that the Academy, if they really think about it, might not want to pass up the chance to nominate Mr. and Mrs. Judd Apatow.
AtT: We cannot count out Marisa Tomei. She is a previous winner and she already did the impossible by coming back once after a much maligned win. Plus I hear she's naked for the first few scenes of the movie.
FYS:
Tilda Swinton
(
Michael Clayton
) is also someone who I believe the industry is waiting to be recognized. Depending on who you ask, she is either a poor man's Cate Blanchett or a thinking man's version of Cate Blanchett.
AtT: And now she can be nominated opposite Cate Blanchett!
FYS: So who is winning the golden guy?
AtT: I'm putting all my eggs in the Saoirse Ronan basket. I think Blanchett has won very recently to win another one. I think if this girl is all she's cracked up to be and if she's in a BP contender then I see no reason why it can't be the little girl. Plus how cute is it going to look to see 70 something year old Alan Arkin present an Oscar to a 13 year old.
FYS: Oddly enough, I also think the little girl is going to win. It helps that they didn't give it to the other little girl last year. I think that the buzz is there, we haven't had a surprise winner here in a long while (assuming that Blanchett or someone else wins more precursors) and by far the early reviews seem to all be in her favor.
Top Contenders:
Cate Blanchett,
I'm Not There
Helena Bonham-Carter,
Sweeney Todd
Ruby Dee,
American Gangster
Olympia Dukakis,
Away From Her
Romola Garai,
Atonement
Jennifer Garner,
Juno
Catherine Keener,
Into the Wild
Jennifer Jason Leigh,
Margot at the Wedding
Kelly Macdonald,
No Country for Old Men
Leslie Mann,
Knocked Up
Vanessa Redgrave,
Atonement
Julia Roberts,
Charlie Wilson's War
Saoirse Ronan,
Atonement
Amy Ryan,
Gone Baby Gone
Tilda Swinton,
Michael Clayton
Marisa Tomei,
Before the Devil Knows You're Dead