It's almost August, which means soon we will be rid of all these summer popcorn films and be hit with a ton of awards baiting films. My favorite time of the year, natch, because I look forward to seeing the best of the best (and sometimes the bottom of the barrell too).
I'm going to try to do a list (*another one? ha) of those upcoming films that I suspect will be seen opening weekend, by any means.
Atonement (Director: Joe Wright)
"A British romance that spans several decades. Fledgling writer Briony Tallis, as a 13-year-old, irrevocably changes the course of several lives when she accuses her older sister's lover of a crime he did not commit (IMDB)."
People could not stop talking about how the adaptation of Ian McEwan's novel would be a sight to see if Joe Wright didn't screw the pooch. With that, I decided to read the novel beforehand and I have to agree with them. The potential for awesomeness is there and judging from the newly released trailer, it's sure to be heavy on the acting performances. The final act of the book will likely be the most difficult to balance in the film, not only because it is the most important, but also because it will influence how well the second act is.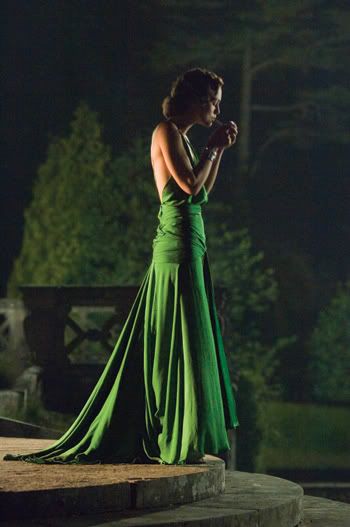 Keira Knigthley in the green dress (*swoon)! At least they kept that in. After recently watching
Dangerous Liaisons
for the first time, I have hope that Christopher Hampton (he adapted/wrote the screenplay for both films) knows what he's doing.
Of course, I'm keeping track of the awards potential for all films and I have marked this one down as the year's frontrunner since March or so. Technical nominations will, as usual, rely on how it does with the precursors, but it has some prestige to it. Jacqueline Durran received an Oscar nod for the costumes in
Pride & Prejudice
, as did Sarah Greenwood for her art direction of the same film. Dario Marianelli, the film's composer, also landed a nomination for his work in that film (the trend is Wright is working with everyone from
Pride & Prejudice
, save cinematographer Seamus McGarvey). Hampton won the Oscar for Adapted Screenplay for
Dangerous Liaisons
, so his nomination is probably the most secure of the film. James McAvoy and Knightley have lots of potential as leads Robbie and Cecilia, respectively, but it's the role of Briony that will be the most important. As in the book, Briony will be depicted in three stages of life, which means three actresses will tackle the role. Saoirse Ronan, Romola Garai and Vanessa Redgrave are all featured in the trailer, although it's difficult to say who will stand out and being recognized by the Academy (I'm betting on Garai today, but Redgrave is a past winner).
Regardless of how it does at the awards, Focus Features should be glad to know that they can count on my $9.75 this fall.