In the Valley of Elah (Director: Paul Haggis)
"A career officer (Jones) and his wife (Sarandon) work with a police detective (Theron) to uncover the truth behind their son's disappearance following his return from a tour of duty in Iraq (IMDB)."
Here's the thing about Paul Haggis. I not a huge fan of his work at all. The best thing he ever did was write the screenplay for
Million Dollar Baby
(adapted from F.X. Toole's stories) and, while I would like to say the worst thing he ever did was
Crash
, I think his script for
The Last Kiss
was worse (although I hear the original Italian film is just as frustrating). His other work (all writing) is very flawed from
Flags of Our Fathers
to
Casino Royale
. But I still have hope for this film. Why? Because of the actors.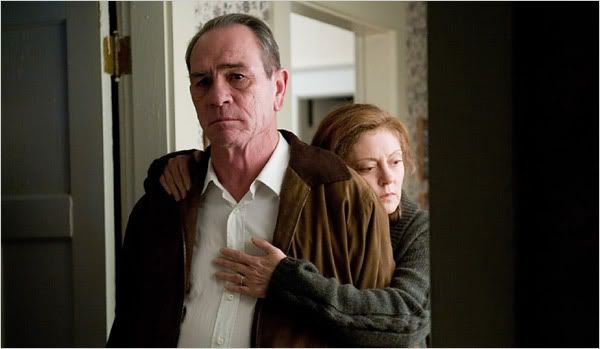 Tommy Lee Jones, an Academy Award winner for his supporting role in
The Fugitive
, has always been a dependable actor. He brings the right amount of dignity to his performances, whether it be
Coal Miner's Daughter
or
Men In Black
(although the less said about the sequel the better). His performance in
The Three Burials of Melquiades Estrada
stands as one of his best. And what's always great about Jones is his willingness to stand back and let his co-star shine. Here, he gets to share screentime with Oscar winners Susan Sarandon (
Dead Man Walking
) and Charlize Theron (
Monster
).
Sarandon is an actress who gets better and better with each performance she gives. After a great run in the 80s and 90s, it is in the aughts where Sarandon has become more comfortable with her work. Starting off with balls-to-the-wall comedy in her guest appearances on TV's
Friends
and
Malcolm in the Middle
(roles which nabbed her consecutive Emmy nominations for Guest Actress in a Comedy), she was near-devasting in her work on
Moonlight Mile
. Add to that her sly and charming performance in the remake of
Alfie
(a role in which she doesn't quite top Shelley Winter's performance in the original, but comes close to it), and you have an actress who is just waiting for another plum role.
Charlize Theron, on the other hand, wasn't really anyone's imagination of a skilled actress, until she hit it big with
Monster
. Oscar came calling and yes, like many freshly-minted Best Actress winners, she followed it up with a "what was she thinking" role (
Aeon Flux
? Really?). But not only did she also grab a trifecta of nominations for her work in the HBO television film
The Life and Death of Peter Sellers
, she also went on to score another Oscar nomination for her performance in
North Country
. In addition, she did a fantastic job on FOX's critically-acclaimed, Emmy darling
Arrested Development
(as a
M
entally
R
retarded
F
emale named Rita).
The subject matter of the film can be very tricky with audiences. Last year's
Home of the Brave
(one of the first films on the current Iraq war) tried to tackle the subject and despite some solid performances, it did very limited business. Haggis will no doubt have fans waiting to see what the creator of
Crash
has in store next, so the potential is there for the film to be seen. Let's hope that this one isn't just the same mentality (war is bad) as the his previous directorial work (racism is bad).